Thank you all for the kind words and the votes on my poll! (The poll closes soon, if you haven't voted yet - please do.)
My friend Lee Ann... aka woodneedleprimitives on Ebay... has already used my first gifted pattern! She has only been doing needle punch for a short time (this might only be her 2nd piece!)... but you can't tell that by looking! She did a wonderful job ~ didn't she?! I love the old, muted, & dirty looking colors ~ looks like a 'loved' olde rug. Great job Lee Ann!!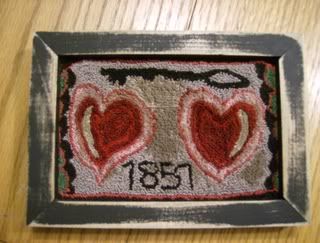 Here is the link to Lee Ann's listing on Ebay..... (sorry, I have yet to figure out how to put a clickable link for you)
http://cgi.ebay.com/Primitive-Framed-Double-Heart-Key-Needlepunch-BLESTB_W0QQitemZ290195956375QQihZ019QQcategoryZ1217QQssPageNameZWDVWQQrdZ1QQcmdZViewItem
There will be another pattern coming soon. Also.... keep watching for some finished hand~dids. Yes, I am going to be giving some away this year! Remember, I do love to see your finished pieces. I would enjoy displaying them here on my blog and will be adding them to my picture trail too.
Also, BLESTB is having our Heart Strings launch. Please stop by to see all our goodies! I currently have a needle book listed... but have another goody finished & waiting to be listed ~ it should be up by Sunday night for you all to see.
Smiles for now! Betty