Happy early Valentine's Day to you! I am so joyful with all the love in my life... my husband, my kids, my extended family, and all my friends! My wish for you all...... that you have as much (maybe even more) love in your own lives!
As promised..... I have a Valentine offering for you! One of you will be getting a little bit more than everyone else.... but you are ALL getting a gift! Because all my friends mean the world to me ~ you all deserve something special!
You will all get to 'enter' your name in a Valentine drawing to have your chance to receive this..........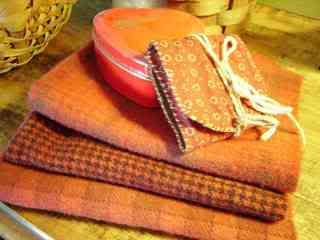 ~*Included in the gift is....... 3 pieces of hand dyed (by me) red wool, a tin of Mrs. Fields Premium Assorted Chocolates (It is only a 2 oz. size ~ but I thought the tin was darling & I know the chocolate will be yummy!), and a sewing roll up made by yours truly.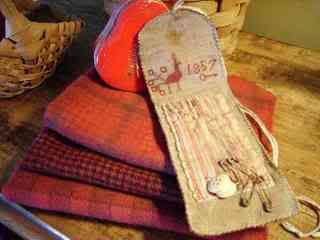 The wool pieces are all about (not exactly) 13 by 14 inches. They are all over dyed on textured prints. Now.... you must know, I am not a professional dyer..... but I did my best! (All have been washed after the dye process with Orvus soap.) The colors in the pictures are showing up with a little more of a yellow cast than they actually have in person ~ they are not orange. Now, hopefully I can hold out & not open the tin of chocolates before they are placed in the mail!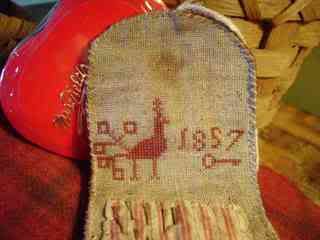 I made the little sewing roll out of scraps from left over projects.... but I think it turned out as precious as precious can be! When open, it is about 3 by 9 inches. I have stitched the bird on linen with a lovely red floss. The fabrics used are reproductions Civil War era prints. The roll has been filled with various olde tyme notions ~ a few bone buttons, rusty safety and straight pins, and a couple old needles. I did some hand stitching around the entire piece with my favorite linen thread & attached a cotton string for the tie up. The scrap of fabric on the inside has been stitched on over a piece of cotton batting to add a little more stability & protection (so you don't get poked by the pins & needles!). Of course, I severely aged the entire piece with my walnut & spice mix. It does appear to have flecks of dirt on it..... but I assure you, this is only ground up cinnamon & cloves.
To sign up for your chance to receive this gift package in the mail (there is only one!)..... leave a comment on this post. You will have until Sunday night, midnight, to sign up. Please make sure I can contact you ~ either thru your blog or by email..... that way, if you are the winner of the drawing, I can get your address & mail out your gift next week. (Sorry, but this is only for US and Canada friends.) The winner will be announced here on my blog on Monday, January 28th, 2008.
Because you all deserve a gift....... this is for everyone .......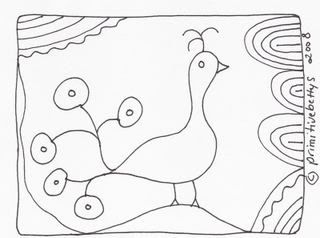 A little doodle for you to enjoy! Hook it, punch it, penny rug it.... or do as you wish. Please be kind and give credit for the design to me, Betty Dekat/primitivebettys.
Ok..... enter now my friends! Hugs & smiles to you all....... Betty
(P.S. I forgot to mention.... the bird was stitched from a pattern in Lori Brechlin's Notforgotten Farm's.... Stitches in Tyme booklet. If you don't have it.... you might want to check it out. She gives some really wonderful ideas & instrucion in it!)