As promised, here are some moments from our Birthday Bash last weekend. I meant to post yesterday, but had to have a day to recover! I think everyone had a great time. Trinity was speechless when he was given his go kart..... that is VERY uncommon for this 5-year-old! He is normally full of words! He took to the kart instantly..... like a little Tony Stewart!
He was given the helmet first..... but didn't know why!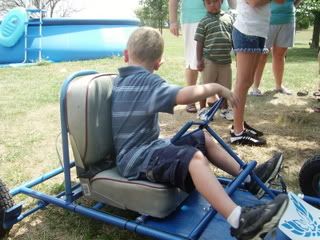 You can't see his face.... but you can tell he was amazed as he looked it over!
Look at how he kicks up the dirt!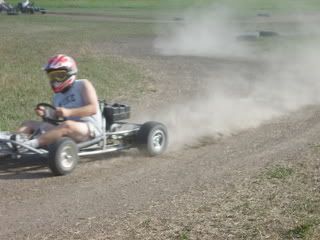 I wonder where he gets it from - Dad?!?
My Mom loved her pinkeep & already has a spot in her entry way to display it. This is xstitched on linen that is probably something like a 40 count.... just dinky! :) The design is my creation, but the birds are from a book of Lori Brechlin's, called 'Stitches in Tyme'. (She is so GREAT!) I wanted it to have the look of olde blackwork.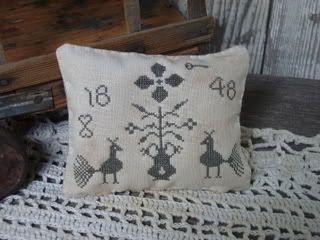 This is about 3 1/5 by 4 inches ~ filled lightly with crushed walnut shells ~ backed with an old looking quilt cotton print.
One more photo that I just have to share! This is my beautiful niece Emma! She is 19 months & just the sweetest!!!! She took a few minutes from the party to snuggle up to Grandpa....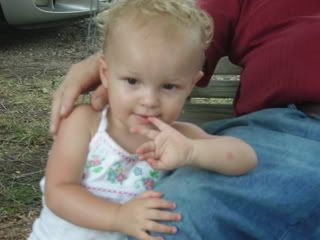 *~*~* On Sunday, September 1st I am putting up some new offerings on Ebay. They will be part of the BLESTB and AB4B Fall launches. Also, I may sneak one up during the week for PGKS too. Please try to stop by for a peek! *~*~*