Today Trinity went to the dentist for the very first time! This is my little boy.... who is growing up too fast! He is 4 almost 5 and about to start kindergarten. (school starts this Thursday!) He was so good for his visit today ~ and luckily no cavities!! He was all smiles for the rest of the day.... well,
truth
be told, he is usually all smiles anyway. Here he is showing off his pearly whites.....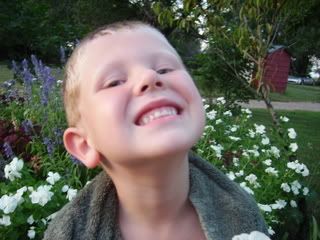 I did have a chance to dye some of the wool from the auction today. Now, don't laugh at my results! :) I am still learning about this whole dye thing. The books I have read discuss dyeing all these different swatches with different quantities of dye. Well, I am very unorganized and more of a fly-by-the-seat-of-my-pants type of gal. I know that I could never get the same color twice if I tried.... but I do love to see what stirs up in the dye pot! Two of the batches I did today, I had forgotten to add the vinegar until the dye bath had been dumped out. Oops! I put the wool back in the pot with more water & the vinegar to simmer some more. What came out was this really cool sort of tie-dyed type of wool. Of course, I don't know what rug any of this wool will be used in ~ but it is great fun to see what happens!
In the next few days I will have a rug & some other hand-
dids
to show off....... just have to get a little extra time to do some finishing on them. :) Until next time..... many smiles to you!!!!!!