Trinity just got on the bus to head for school. So, I am taking a lil' bit of a breather before diving into my daily routine..... a little exercise on the elliptical (no, I haven't reached the 45 minute mark yet.... 20 minutes is enough!!), maybe some house cleaning and laundry (aarrrgghhh), and hopefully LOTS of hooking, punching, and stitching! I have a small rug on my frame that is about half finished. (Maybe it will be done by the time my head hits the pillow tonight.) I have an eye appointment that will take a big chunk out of the afternoon.... so there will be a little magazine time.
Speaking of magazines..... why the heck do I get so many? It seems I am quickly becoming a magazine-o-holic! I have subscriptions to Country Sampler, Merchantile Gatherings, Create and Decorate, The Wool Street Journal (my FAVORITE!), Mary Engelbreit's Home Companion, Sampler & Antique Needlework Quarterly, and Food & Family (a freeby from Kraft). Believe it or not.... there once were more. I have let some run out! Although.... there is one more I would like to add to my list ~ Early American Life. It is very hard to make time to read them all! 'Picture' reading is great fun though!! geeezzzzz - right?!
Hey.... before I end this note, I have a new needle punch pattern coming out! It will be listed on Ebay very soon ~ maybe by Sunday evening. It is for a couple of very fun-n-folky dollies. I have plans to do a whole line of these patterns. So please, stop by my listings to take a look.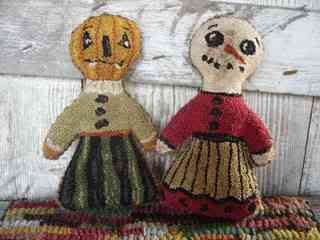 Also, on October 1st ~ I will have items listed on The Primitive Gathering website. I am so honored to be a part of this talented group!
Ok.... time to get busy here now. Have a glorious day & spend it doing things you love!
Smiles,
Betty