With Thanksgiving just a few weeks away and Christmas less than two months off...... we are all going to be gloriously busy. May you all have happy, healthy, fun-loving times with the up coming holidays. Treasure your family and friends & cheerish each and every moment.
I am still trying to get ready for the Holiday Gathering that is this coming weekend and haven't had much to put up for auction. This is my latest sampler....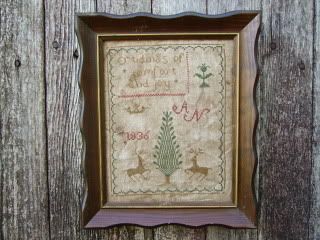 I have this one listed on Ebay right now as part of the BLESTB Colonial Yuletide launch. If you haven't been by to view all the fabulous offerings.... get over there and look! WOW! Everyone has put up some stunning work!
Peace be with you all.....
Betty