Hello my dear friends! Willie has found love! Some of you may remember my booklet 'Meet Willie The Perfect Sheep'..... well, here is my second gift to you. Willie has made a return to show off the fact he has round love ~ just in time for Valentine's Day too! (This is not a pattern from the book ~ it is a new drawing.)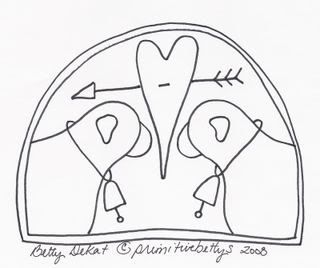 Yes, this pattern is for you to use with your favorite medium. Feel free to enlarge or reduce him to fit your needs. You are free to sell your finished pieces for fun or profit (no mass production please)... just give me credit for the design ~ Betty Dekat/primitivebettys. And ~ WHATEVER YOU DO ~ send me some pics of your work all finished so I can add them to the photo album in my picture trail. I LOVE to see your finished works!
I do still plan to offer a finished 'something' for Valentine's Day. This was a hectic week... with one day spent in bed with a frustrating headache. So... I am a little behind schedule. I do have big plans ahead for the next few weeks though..... they are exciting & I can't wait to fill you in! BUT.... you will have to wait just a few more days.
Please have a wonderful weekend! Be safe & create!!
Warm smiles to you,
Betty