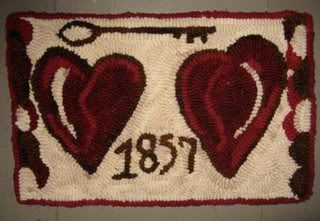 I received an email from my buddy Sarah McNamara of hallowedhillprimitives on eBay. She was so sweet to share with me a rug she made from my 'give away' pattern
Hearts Pair 1857.
http://cgi.ebay.com/Primitive-Hand-Hooked-Rug-Valentines-Day-Hearts-PRHG_W0QQitemZ130190265623QQihZ003QQcategoryZ1217QQssPageNameZWDVWQQrdZ1QQcmdZViewItem
She has it listed right now on eBay. Stop by and take a looksy!! She did such an awesome job on it. I love the deep, rich red. Of course, red IS my favorite color!
Sarah is a friend and fellow group member of PRHG and TheEA (both eBay groups).
If you didn't see the pattern given, you can find it on the post from December 31st, 2008..... or simply visit my picture trail for the special album of all my gifted patterns.
And YES, I am still working on a special Valentine's Day give away of something 'finished'. I am working too on the finishing touches of my first cross stitch pattern offerings. These patterns may be available for purchase as soon as the end of this week!