Well, there is still an Ebay boycott going on.... and maybe I should join..... but I did list this last night.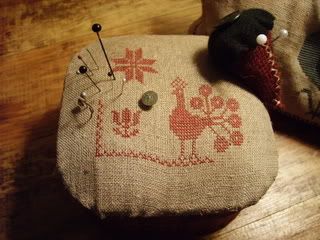 http://cgi.ebay.com/ws/eBayISAPI.dll?ViewItem&rd=1&item=140210402175&ssPageName=STRK:MESE:IT&ih=004
This box is very sweetly, primitive ~ it is fabric covered with a little padding to stuff the lid (sheeps wool) & has a sampling of pins, buttons, and sewing notions. There is also a naively constructed strawberry that can be pinned to the top or tucked away inside.
So, while I am thinking it would have been a good idea to join the boycott..... I think about all my friends & customers that have given me so much joy because of Ebay...... and listed this lil' ditty anyway.
On Saturday, March 1st ~ I will have MANY goodies offered on The Primitive Gathering, Simply Primitives, and Lemon Poppy Seed. I have cross stitch, needle punch, and hooked goodies made up! And YES!! I am still working on my March pattern offerings too. However, it will still be a couple of weeks until they are ready.
Warm smiles to you!
Betty