It is a rainy morning here on the prairie... but better a little rain with NO ice than cold, blowing snow. It has been a quiet morning giving me a chance to schedule a little ebay offering. (It will start at 8pm CST tonight) I made up another sewing roll.... similar to the one from my Valentine Give Away.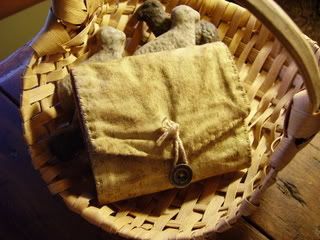 I must have been thinking of Spring! Aren't the bunny & strawberry vine CHEERY?!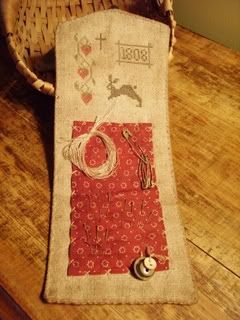 The sewie has been filled with a generous sampling of rusty pins, old buttons, and a gathering of my FAVORITE linen thread. You know though.... I am really low on old, worn out needles..... maybe it is time to visit some antique & junque stores! LOL (To see my auctions, click on the ebay link to the left or search seller id primitivebettys.)
I am still working on my next counted thread patterns.... I promise, they will be available by the end of the week.
Have a GREAT time watching the game & commercials tonight! Stay safe & be creative!
Smiles,
Betty