Oh my! We have had a beautiful day here, but we worked our tails off! We spent the day outside working on our landscaping 'issues'. We have lived in this home for almost 2 years & have yet to 'dig' into the yard. We have almost 6 acres, so much of our time is spent mowing in the Summer. The couple that lived here before us were the original builders (1970). They planted many shrubs & Rose of Sharon bushes around the front of the house.... that were past their prim. So.... they finally came out today.
Now.... doesn't this look drab?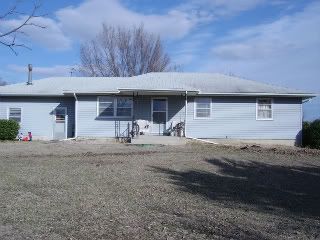 (We also noticed that the front porch is really needing some mud-jacking work... we better get that taken care of before it is too late!)
My Mom is a wonderful gardener, but she lives an hour away. I emailed her this picture & told her to plan something for me. You see.... I am NOT (nor is my hubby really) a gardener or landscaper. What have WE gotten ourselves into? LOL
I still really want to get to work on this too!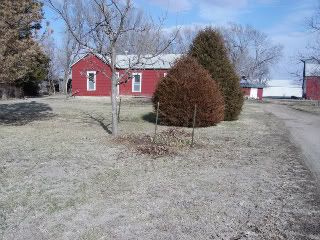 For those of you that don't know... this is the original farmhouse on the other side of our driveway that will SOMEDAY be my studio. The goal is still set for this Fall for it to be done. But, it looks like we have some gardening to tend to first.
Smiles,
Betty