I'm not a Professional Rug Hooker & not a FINE hooker by any means. My way of rug hooking is completely self-taught and has taken on a primitive, hickety-pickety style. That is OK with me.... I love it!
I have never taken a hooking class. Everything I do with my hook is self taught from books, the internet, and chatting with hooker friends. I have never used rug binding to finish a rug. Instead, I usually just turn the rug backing under and stitch it down. It became difficult for me to do this with a chairpad. How do you just turn it under and stitch it down when the rug itself is round? Hummmm... I thought. Well, this is my way of doing it. If you are a FINE hooker, you may cringe.... but this is my primitive, make-do way & I love it!
After hooking my hit 'n miss mat, I turned the linen backing under ~ gathering it here and there and pressing it with an iron.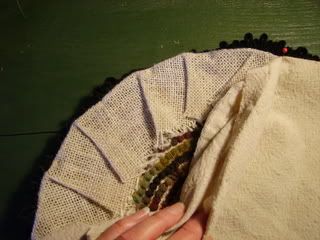 I then cut an old cotton grain sack about an inch larger than the mat. I did this by just laying the pad on the sack & cutting.... nothing fancy or measured. Next, I turned the raw edges of the cotton fabric under & pinned it to the pad.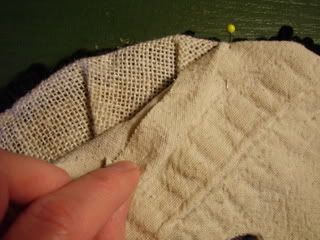 With my FAVORITE linen thread ready....
I used a double strand of thread to stitch a simple stitch around the perimeter of the pad.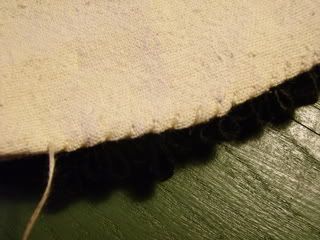 Notice the seam on the back? Well, I thought it would be extra prim to leave it.... it is from the original grain sack.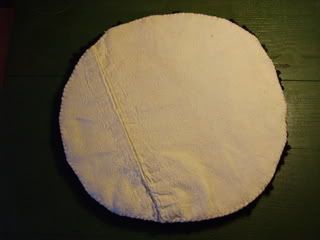 Here is the front of the pad ~ before adding my Walnut & Spice stain...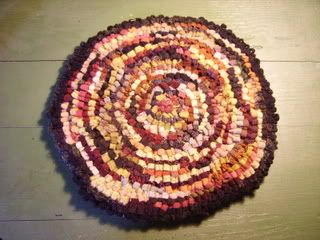 Here is the back ~ after adding the stain... it looks nice & used ~ doesn't it?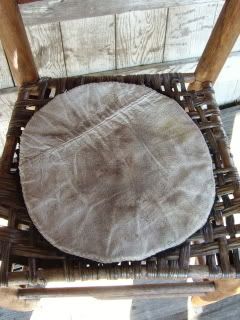 And the front after the stain...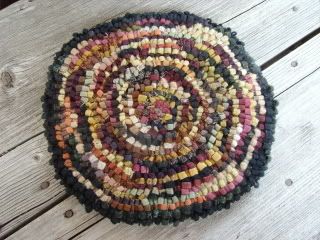 So, that is how I made this extra-prim, extra-simple, extra-make-do chairpad.
It is listed now on my Lemon Poppy Seed Shop....
My Poppy Shoppe
Smiles,
Betty