Where to begin???
Hummm
, what fun it is to ponder and
oodle
of hooking, punching, and stitching.... and wool dyeing. I have all this free time during the day and a million and one directions I want to take. As many of you know, I am in some wonderful
Ebay
groups. Two of them have a launch set for September 1st (
BLESTB
and AB4B). My Mom has a birthday soon too. Now, I have the joy of coming up with some things to offer with the groups and something special to make my dear
ol
' Mom. (that was
ol
' not old..... just in case she sees this!
LOL
) So, for the next few weeks I will get to play with threads and wool....... what will come of it? Only time will tell. Here is a rug that I did manage to finish yesterday. It might make its way to
Ebay
soon, but it will be nice to live with it ~ for just a few days anyway.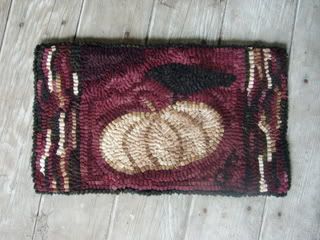 I am proud of myself.... most of the wool used for this one I dyed myself. :)