It is only 10:30 New Year's Eve & I can't wait any longer.... to sleep or to give the first gift. :)
The poll is still open ~ so if you haven't voted, please do. I have plans to make this a year of giving. Based on the poll so far, it seems most of you want patterns here on my blog. So, I will give mostly patterns here.... but will still give some of the other things too. Watch for drawings or some sort of contest for those goodies.
My first gift pattern to you is simple. I have had my 5 yr old on my heels all week because school is out for Winter break. We went to see Alvin and the Chipmunks today... but have had a full week of sharing together.
***A note on the patterns, please use them in any medium you want. Feel free to reduce or enlarge them to what you need. Feel free to sell your finished items - in limited quantities on Ebay (or other online sites) or small craft shows. Please do not sell the pattern. Please do not mass-produce items with the pattern either. Also, please give credit for the inspiration/pattern to the designer, me.... Betty Dekat aka primitivebettys.***
I will put the patterns here on my blog, but am also filling an album on my picture trail (link is to your left) for easy access to them all should you not be able to find/search for them on my blog. I would love to have another album there to display YOUR finished goods too. Send me a picture to share with everyone! :)
So.... without further delay.... here is your first pattern gift!
~* Hearts Pair 1857 *~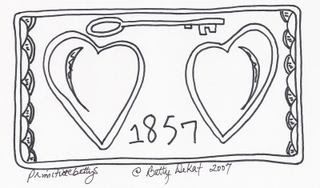 I thought it would be nice to plan a little in advance for Valentines Day ~ hence the hearts. But also... as many of you know.... the skeleton key & year of 1857 seem to follow me along in the things I do.
I hope you approve of the first gift. Please keep watching for more ~ many more. Have fun & be creative!!
Warm smiles to you,
Betty